Wisdom Tooth Removal at Rutherford Dental

What to do if your wisdom tooth hurts?
If you have a wisdom tooth that is causing pain or discomfort, it is important to see a dentist quickly. Early treatment greatly reduces your risk of bigger problems later.
Sometime problems are caused by simple things like inflammation – as it is hard to clean wisdom teeth properly since they're so far back in the mouth! But when it comes to wisdom teeth, pain can be a sign of a bigger problem.
Wisdom teeth do not always need to be removed. Not only can we check your cleaning, we can take X-rays. These X-rays will let us see if your wisdom teeth will become, or already are impacted. With X-rays we also check for cysts and make sure we know what is going on underneath your gums. Rutherford Dental's experienced dental professionals can assess the position and health of your wisdom teeth and help you decide what's best for you.
If you are in pain call us on (02) 4932 8366. While the dental surgery is open and you are in pain, you will be seen.
When do Wisdom Teeth come in?
Your molar teeth right at the back of the mouth are also known as wisdom teeth. Dentists also call them third molars.
As you probably know, teeth emerge in stages in a fairly predictable pattern. Usually teeth come in, erupting first in the front and making their way toward the back. So your incisors come down first, then canines, premolars and molars and, finally, wisdom teeth.
They usually erupt between the ages of 16 and 26 years of age.
What is the purpose of a wisdom tooth?
Back in our primitive days, when humans had much coarser diets, our teeth would wear away leaving room for the wisdom teeth come through. So in the past they may have been useful for replacing molars that had become worn out.
Now that modern diets are softer, teeth don't wear as quickly, and there are no gaps for wisdom teeth to fill. In modern times, very few people actually have enough room in their mouth for their wisdom teeth to come through. This is why wisdom teeth removal is widely recommended.
Why do wisdom teeth need to be removed?
Some people believe that if wisdom teeth don't erupt it's all right to leave them there. If you can't see them and they don't hurt, why worry about them? But unfortunately, these molars are more likely to cause you problems than any of your other teeth. 
One of the main problems with wisdom teeth is that they can becom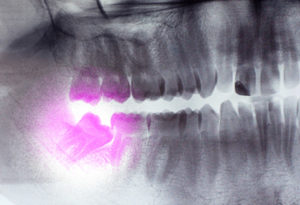 e impacted.  This is because our jaws are often just not big enough for them. When they are impacted they may only partially erupt or they get trapped in the jaw.
Over time impacted wisdom teeth can actually cause lots of problems like:
damaging – even destroying adjacent teeth
causing infections in the gums and/or jaw bone
forming cysts underneath
causing headaches and other facial pain, and/or
pushing all your teeth together so they are not in a straight line (crowding).
Usually these symptoms don't appear until middle age but by then the problems have already developed. That is why wisdom teeth removal is generally recommended.
But no matter how old you are, if you have a problem wisdom tooth, we urge you not to delay in getting a dentist to examine it. If you would like us to take a look, call us on (02) 4932 8366.
Wisdom Teeth Removal at Rutherford Dental?
Rutherford Dental are located in the Maitland area and have been serving Maitland and surrounds since the 1980s. We have highly experienced dentists who can assess your situation, and help you decide if you need any wisdom teeth removed.
In many circumstances we can extract wisdom teeth within our dental practice under local anesthetic. This might sound a bit frightening, and that's ok. We are very experienced, with caring staff to make sure you are relaxed as possible.  We also offer nitrous oxide sedation (happy gas) to help you feel at ease.
Having a wisdom tooth out in a dental surgery is an appealing option for many.  It is the most convenient and least invasive option. You don't need to go through the lengthy and complicated process of being admitted into hospital and undergoing general anesthetic. So you do tend to recover more quickly, which is a good thing!
If you have concerns about your wisdom tooth, just give us a call on (02) 4932 8366. Once you have arranged an appointment, we will help you work out your best options.
Areas We Service
Our Maitland dental practice is located in the centralised suburb of Rutherford, NSW. And our local patients come to us from the surrounding areas of  Maitland, Rutherford, Kurri Kurri, Thornton, Aberglasslyn, Telarah, Bolwarra, East Maitland, Lorn, Gillieston Heights and Hunter Valley surrounds.
Contact: (02) 4932 8366
View our Dental services pages