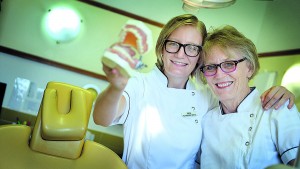 Are you looking for a Maitland dentist who will help you keep your healthy teeth, or maybe someone who will work with you until you are truly happy with your beautiful smile?
Are you looking for friendly, caring dentists to look after your children's teeth? Or maybe your aging parents' teeth?
Are you looking for a dentist who won't cost a fortune and won't perform unnecessary procedures? Then we're the dentist for you. We're YOUR dentist Maitland!
We are a local family dentist
Rutherford Dental is a true local business. Our family has been running the practice for over 35 years and has formed strong bonds with the Maitland and surrounding community. We have our own on-site dental technician for dental laboratory work and we do not send our work overseas.
We'll give you excellent care
Dr Nawrot and Dr Gen perform all dental services and dental treatment using the latest techniques and equipment for your comfort and peace of mind.
We keep you in control
You are the patient and we want you to be happy with your teeth and treatment. We give you all the information you need about your various options and will of course guide you, but we empower you to make the right choice for you.
We are affordable
At Rutherford Dental we place a strong emphasis on preventative care including comprehensive regular check-ups to maintain the health and appearance of your teeth. We offer affordable mini implants for crowns and denture retention. These mini implants can often save you time and money, while providing an excellent and durable solution.
We are also an approved service provider for government plans such as Veteran's Affairs and Child Dental Benefits Schedule.
We're a stress-free environment
We are aware that some people may find the dentists intimidating and we will work with you. Check out our page on nervous patients here. Easy access is available for the elderly and disabled, including on-site parking.
We offer emergency appointments
If the dental surgery is open and you are in pain, we are never too busy to treat you. We offer emergency appointments whenever we are open; just ring us on (02) 4932 8366.
We are famous for family values
Rutherford Dental was featured in The Maitland Mercury – we really are a family practice! Read below about Dr Louise Nawrot and Dr Gen; we have been providing Maitland dental care since 1981 and are still going strong. Read the full article here. 
Visit us!
Whether you require a routine cleaning treatment or a surgical procedure, our experienced, caring dentists will give you the best results at affordable prices.