Teeth Whitening at Rutherford Dental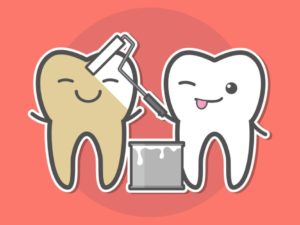 If you are unhappy with the colour of your teeth, teeth whitening may be an option for you. Give us a call (02) 4932 8366 to discuss what you want to achieve. Teeth whitening changes the way light reflects off your teeth giving you a whiter, brighter smile.
What does it involve?
There are 2 types of teeth whitening, in-office whitening and take-home treatments. In-office whitening usually takes about thirty minutes in the dental chair to achieve the desired whitening. A stronger whitening solution is used and hence this can only be completed in-office. This effect, while lasting for a year or two, does not last as long a take-home treatment and hence this is usually reserved for special circumstances, e.g. whitening teeth quickly before a wedding.
The take-home treatments involve placing small amounts of whitening solution into trays made to match your mouth. These trays are worn either overnight, or for 1-2 hours a day for several weeks. While this treatment takes longer, the result is more stable and lasts for about 3 years. After 3 years, a few days or nights of wearing the trays again can re-lighten the teeth to your desired whiteness. As such, this is the method more commonly used.
What are the side effects?
Teeth lightening can result increased sensitivity around the teeth during and after treatment. This can be managed usually with a sensitive toothpaste. The sensitivity can linger after treatment is complete, but symptoms resolve in the weeks following.
In addition, while the solution is very effective at lightening teeth, surrounding fillings and crowns do not lighten with the teeth. Hence, if you would like whitening but have fillings in your front teeth, these may need replacing to match the colour of your newly whitened teeth