Celebrating 40 years as your family-owned Maitland dentist!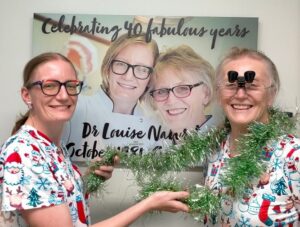 Thanks to the wonderful support of our patients and staff, Rutherford Dental have been looking after the community for four decades! We are so proud of this achievement and so thankful for the amazing support we continue to receive from our patients. A huge shout out to our amazing staff who keep the ship afloat. Here is to 40 more years!
Love and thanks, Dr Nawrot and Dr Gen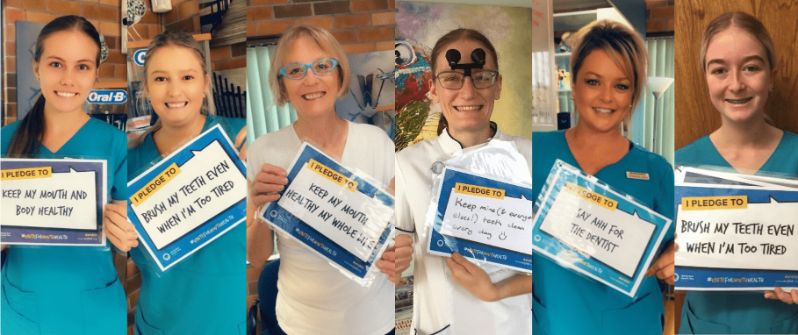 Welcome to Rutherford Dental – your Maitland Dentist since 1981
COVID-19 update: we are following all COVID-19 guidelines related to the Newcastle, Cessnock, Dungog, Lake Macquarie, Maitland, Muswellbrook, Port Stephens and Singleton local government areas. We are open for all procedures. For more information please refer to our COVID-19 post.
Call us on (02) 4932 8366 or click here to make an appointment.
We're YOUR dentist Maitland! We are here to help you care for your teeth and maintain your healthy smile.
Family is important to us, so we understand what family means to you. Rutherford Dental is a family-owned and operated dental practice with plenty of experience to back us.
Who is Rutherford Dental?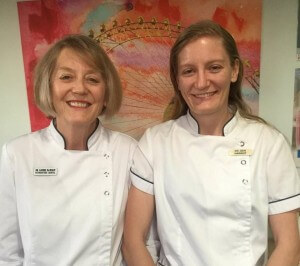 Dr Louise Nawrot is a local Maitland dentist through and through. Dr Nawrot was born and raised in Bolwarra, Maitland NSW, and opened this Rutherford dental surgery in 1981.
Many years on and her daughter Dr Gen Nawrot works alongside her as a dentist in Rutherford. Dr Gen is proud to continue Dr Louise Nawrot's kind and caring legacy to the Maitland and Rutherford communities.
Rutherford Dental has been providing the people of Maitland dental care for over 35 years and we pride ourselves on our long-standing relationships with many families in the area.
If you are looking for a Maitland dentist that provides you with personalised, stress-free dentistry, we would love to help you. Come see your favourite dentist Rutherford!
A message from Dr Nawrot
Our Maitland Dental Services
We know that choosing a dentist is much more than just getting a filling when your tooth is sore. We understand that you want a local Rutherford dentist who will help you prevent problems before they arise. That's why we have a whole range of services to keep your teeth in top shape.
Rutherford Dental's services include general check-ups, teeth cleaning, fillings and crowns, dentures, mini-implants, gum treatments, root canal therapy, teeth whitening, and more. See our dental services pages for more information about the services we offer at affordable prices.
We are proud to be an independent dentist in Maitland NSW and are not owned by a health fund or corporate entity. This means that we can give you the best possible dentistry, without external influences impacting on your treatment decision.
Call us on (02) 4932 8366 or click here to make an appointment.
What Our Patients Say
Genuinely the best dentist experience I've had. Gen was friendly, confident, and took time to explain the situation and her methods. It made me a lot more relaxed. The surgery was well-equipped, clean, and professionally staffed. I will be recommending the business to my family and friends. Thanks!
Allan E. – Google review
Genuine caring, professional, excellent pricing – highly recommend ???
Halston K. -Google review
Rutherford dental is one of the leading dentists in our local community. Dr Louise Nawrot is really friendly & experienced. My young girls love to see her dentist 🙂 Cheers
Jermy A. – Google review
Had my teeth checked last week. Friendly and helpful staff and the dentist that served me are very professional, patient and friendly. Will definitely go back! There is also a pic that another dentist working there is doing a fund raising on her unicycle. My friend finds that pretty cool.
Emma Z. – Google review
It's a mother and daughter and one other, female, doctor clinic. I received quality treatment from the daughter, Genevieve Nawrot (a German name). The prices charged were most competitive and she knew what she was doing. I shall return to see Dr Genevieve N for future treatments.
Paul F. – Google review
Very pleased with the end result excellent service. I'm glad to find that the 5 star rating given to use is true thank you. And definitely will let my family and friends know and I will definitely will be back great job
Sinan K. – Google review
Good service. Will be going back!
Oliver N. – Google review
Tips from Our Lovely Dental Nurses
Our lovely local dental nurses from Maitland, Jess and Monique, wanted to share the biggest thing they have learned since coming to work at Rutherford Dental. We wanted to share their tips because looking after your teeth is so important. This eagerness from 0ur team to contribute is why we think we are the most caring local dentists in  Rutherford!
Why are healthy teeth important?
Are you aware that good oral hygiene can reduce your risk of serious health problems, like heart attack and stroke? This means that looking after your teeth can help you maintain your quality of life. We will help you and your family learn about how you can look after your smile for the long term, and you can get started by checking out the videos below.
Rutherford Dental know that our patients like to feel in control and so we give you all the information you need to make informed decisions. We will make you feel at ease and will help you choose the best treatment options for your long term health. After all, we're your friendly dentist Maitland!
Oral Health Video Resources
We've added some links to the Australian Dental Association (ADA) videos about various topics related to looking after your beautiful teeth. Have a look through the videos and if you would like more information, the ADA website has great resources broken down by age group. Our dentists are proud members of the Australian Dental Association and regularly received updated training and technical experiences. This means that Dr Nawrot and Dr Gen can always give you the most informed treatment options to suit your needs.
Pro tips for a healthy mouth – you deserve clean teeth!
Are we a bulk billing dentist in Rutherford?
We get lots of questions about Maitland bulk billing dentists. The government does not provide rebates (money) to dentists as they do to doctors, so there is no way for us to bulk bill. However, there are ways for you to access free dentistry if you meet the Government's eligibility requirements (see below for more information).
It's great to know that we accept vouchers from the Maitland Hospital dentist and other areas such as the Cessnock Hospital dentist, or Raymond Terrace, Newcastle, East Maitland etc. Once you have received your hospital voucher, you can come and see us. Our patients often ask the hospital dentist for 'the dentist on the highway' or 'the dentist next to KFC'. That's us!
Am I eligible for free dental care in Maitland NSW?
Your child may be eligible for $1,000 of free dentistry each year! Check here!
If you are over 18, then you may be eligible for the hospital vouchers we mentioned above. Here are the requirements from the NSW Government website:
Adult NSW residents must be eligible for Medicare and be listed on one of the following Australian Government concession cards:
Health Care Card
Pensioner Concession Card
Commonwealth Seniors Health Card
Have a look at the government websites and go see them down at the hospital.  When you have your voucher, call us on (02) 4932 8366 or click here to make an appointment.
Can we book online with Rutherford Dental?
If you are looking to book online with Maitland dentists, then you have come to the right place!
We offer a 24-hour online booking option on our website where you can book a dentist appointment in Maitland at any time. You can find the link here.
Note that there may be some disruptions to online booking of appointments at Rutherford Dental during COVID-19. We apologise for any inconvenience and will get back up and running with online bookings as soon as possible.
We're proud Maitland Dentists – what other areas do we service?
We are a really proud, local Maitland dental clinic. Our practice is located in the centralised suburb of Rutherford, NSW, next door to KFC Rutherford and right across from Woolworths Rutherford and Coles Rutherford.
We are proud to be a local Maitland NSW dental surgery and our loyal patients come to us from the surrounding areas of  Maitland, Rutherford, Kurri Kurri, Thornton, Raymond Terrace, Aberglasslyn, Telarah, Bolwarra, Bolwarra Heights, East Maitland, Lorn, Gillieston Heights and Hunter Valley surrounds.
We are always happy to accept new patients and would be thrilled to see you. We're your dentist Maitland, see the map below for directions to the best dentist in Maitland (clearly we think we are and hope you do too). We really want to be the obvious choice the next time you are looking for a 'dentist near me Rutherford' or 'dentist near me Maitland'.
Dentist Rutherford NSW
Rutherford Dental are your local Maitland dentists – and we have been since we opened in 1981! Because we have been here for so long, we are so proud of our long history of providing Maitland dental care.
We really think we're the best dentist in Maitland and we hope you do too! We are located at 268 New England Highway, Rutherford, Maitland NSW (next to KFC Rutherford). Come visit your favourite dentist Rutherford!
Rutherford Dental – your Maitland Dentists!
Serving the community across the following areas:
Map of Maitland NSW